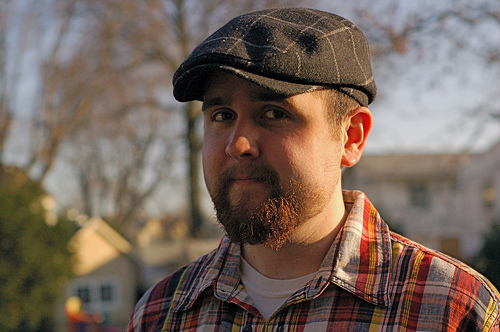 Paul Montgomery is a rapscallion, a raconteur not to be trusted. He's a peddler of lies and a grand deceptionist, to be sure. A graduate of Drexel University's Screenwriting and Playwriting program, Paul doesn't simply have a way with words, he has his way with them. Lock up your metaphors. He wants nothing more than to mix them.
Born on what would have been H.P. Lovecraft's 94th birthday, Paul is an armchair occult detective in his own right. He loves all things pulp and baroque, with much of his writing bordering on the Weird and fantastic. His favorite writers and artists include Roald Dahl, Michael Chabon, Herman Melville, Mike Mignola, Guillermo del Toro, Wes Anderson, Ed Brubaker, Brian K. Vaughan, Joss Whedon, and The Decemberists. He writes a weekly comic commentary column for iFanboy.com each Tuesday. He is an amateur escape artist and can often be found rising triumphantly from a shallow grave, the seven of hearts you'd previously selected from an unmarked deck clenched between his teeth.
Paul is pleased to join the writing staff of Wormwood with season two, episode 14 "Jack Nicholson's Nose" which was co-written by his friend David Accampo.