Hi folks:
We haven't really updated the site in a while. Most of our activity is currently being poured into our sister site, sparrowandcrowe.com, which is the best place to go for news and updates about the continuing world of Wormwood.
Here's a brief recap: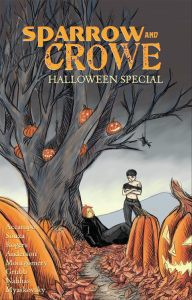 In July, Sparrow & Crowe #1 debuted at the 2012 San Diego Comic-Con. Our sales were steady, and we received from great reviews for the book.
In August, Sparrow & Crowe #1 launched on Comixology.com as a digital comic for just $1.99. A great price point for anyone who couldn't find a physical copy of the book.
Next week, October 10th, 2012, Sparrow & Crowe #2 hits comic book stores. We've had some delays, and orders (as is typical with comics) are down on issue #2, so you need to get to your shop and ask for Sparrow & Crowe #2 before they're gone!.
In case you have trouble finding either of the first two issues, we have set up a "Where to Buy" page on our Sparrow & Crowe site. Retailers can STILL purchase comics directly from our publisher, Hermes Press, and we also have a local retailer in Los Angeles who is willing to SHIP copies of Sparrow & Crowe to our loyal fans.
On October 17th, we launch something really fun: The Sparrow & Crowe Halloween Special — this is a black and white digital comics anthology released exclusively on Comixology.com! We've set up a Halloween Special page here, and we'll update it with links to the digital comic when it debuts.
In November, you will be able to PRE-ORDER Sparrow & Crowe #3 from comics retailers. We NEED our fans to pre-order this book, so that retailers will know to stock it. We will update you when more information is available.
Also in November, David Accampo and Jeremy Rogers will have a table at the Long Beach Comics and Horror Convention (LBCC). If you're in the Los Angeles area, be sure to come by and see us! We'll have copies of Sparrow & Crowe #1-2 with us!
In December, we have some super secret plans that we can't share yet! Stay tuned!