Habit Forming Films proudly presents: Wormwood: Crossroads: Episode Twenty-two — A Farewell to (f)Arms!
Written by David Accampo



(Right click on icon and save to download to your desktop.)
Starring:
Arthur Russell as Doctor Xander Crowe
Sonia Perozzi as Sparrow and Rachel Nolen
Rob Grindlinger as Sheriff Tom Bradley
Dave Johnston as Deputy Wayne Drexal
Ben Boodman as Chip Drexal and Bishop Grail
Nicole Rayburn as Harmony Barrister and Deidre Frost
Zachary Foulkes as "Brent Saunders" and Renault
Joy Vanides as Sister George and Elsa
Anna Maganini as Peggy Nolen and Commander McQueen
David Accampo as Jacob Kitter
Robert W. Allen as Agent Voitek and Dieter
Peter Dirksen as Jimmy Details
and Joe J. Thomas as Hank Mason and the Announcer
Edited by David Accampo
Recorded and Produced by Habit Forming Films, LLC
Original Music Composed by Todd Hodges
Staff Writers:
Jeremiah Allan, Rob Allspaw, Tiffiny Kaye Whitney and Paul Montgomery
Executive Producers:
David Accampo and Jeremy Rogers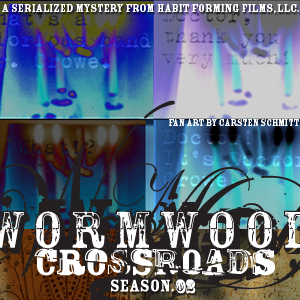 Featuring Fan Art by Carsten Schmitt!
Copyright 2009 Habit Forming Films, LLC. All Rights Reserved.