Wolverines at sunset; A sunny proposition;  Agents of M.E.T.A.L.; Instant coffee and the failure of trust; Cold hands, colder heart.
Habit Forming Films proudly presents: Wormwood: Revelation: Chapter Two!
Written by Tiffiny Kaye Whitney, Rob Allspaw and David Accampo

(Right click on icon and save to download to your desktop.)
Starring:
Peter Dirksen as Jimmy Details
Morgan Walsh as Sunny
Rob Grindlinger as Sheriff Tom Bradley
Ben Boodman as Chip Drexal and Bishop Grail
Dave Johnston as Deputy Wayne Drexal
Arthur Russell as Doctor Xander Crowe
Sonia Perozzi as Sparrow and Rachel Nolen
Samantha Turk as Henry Howe
Zachary Foulkes as Adramelech
Anna Maganini as Lynnette Bradley
David Accampo as Jacob Kitter
Joe J Thomas as your Announcer
Additional wolves, vampires and soldiers by: Nicole Rayburn, Zachary Foulkes, Ben Boodman, and Rob Allen
Edited by David Accampo
Audio Recording Engineered by Greg Wilkinson
Recorded and Produced by Habit Forming Films, LLC
Original Music Composed by Todd Hodges
Staff Writers:
Jeremiah Allan, Rob Allspaw, Tiffiny Kaye Whitney and Paul Montgomery
Executive Producers:
David Accampo and Jeremy Rogers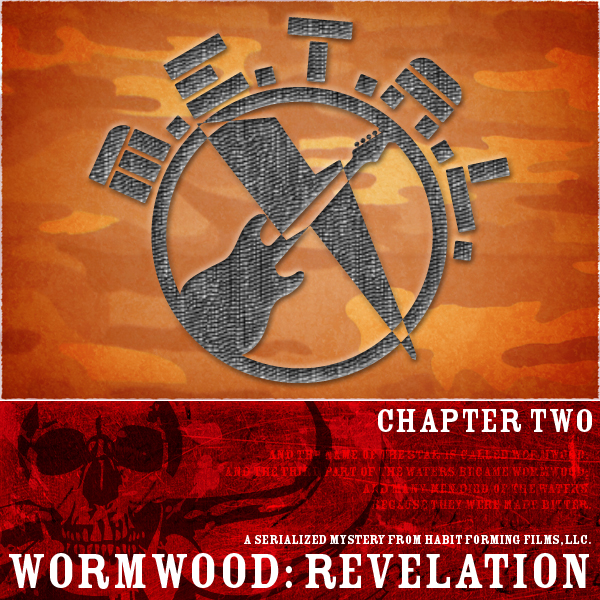 Copyright 2010 Habit Forming Films, LLC. All Rights Reserved.